Remote acces via Internet or a corporate network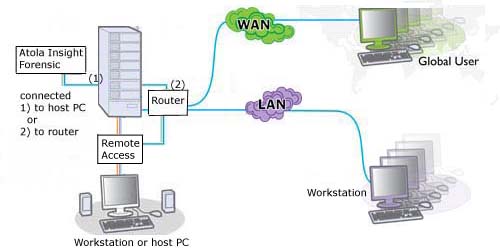 This powerful 'add on product' enables access to your Atola tool from anywhere in the
world, you can work securely and remotely via theInternet or via a corporate network.
Video modes
Supports video modes up to resolutions of 1600 x 1200 with scalable viewer
Installation
To be connected to Internet and between your Keyboard, Mouse, Monitor and your Atola host PC or workstation.
O/S compatibility
It works perfectly with the Windows 7, 8.x and 10,
32 and 64bit.
Computer connection
Video: HDD15, Keyboard/Mouse: MiniDIN6 1m 3-in-1 cable supplied (USB converters also included)
Local console
Video: HDD15, Keyboard/Mouse: MiniDIN6
Connections
Ethernet: RJ45 10/100 autosensing

Wherever you are - in your office - at a customers office - or somewhere abroad
You have direct access to any case running on your Atola system - via Internet.

Please note: (bear in mind, that only one user at a time has access to the Atola tool)
The Atola Insight Forensic can allready be used in a LAN system from any user / workstation. Connect the Atola tool
directly to the LAN (router) and you can work with it from any workstation/PC in the LAN in two ways:
1) install the Atola Insight software locally and its database onto your server
- this allows access to the database on the server (case histories of all cases) from all workstations
or
2) install the Atola Insight software and its database locally to each workstation
- this limits the database (case history) only to those cases handled on the same workstation.

Suggestion:
The best way is to start a case allways with the host PC or the workstation close to the Atola tool.
If you need to have (parallel) access from an other place in your office to control the ongoing work
you can either set up our Remote Access add on product (best choice also for Internet access)
or you can set up a KVM switch
We certainly can assist to find the best solution for you.